TRACE 2017: BIENNIAL EXHIBITION & ART AUCTION IN THE STREETS OF 4101

Gordon Bennett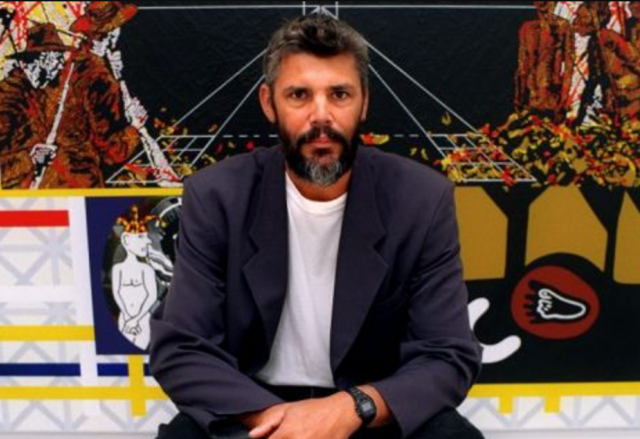 Gordon Bennett 1955-2014 was born in Monto, Central Queensland. In 1988 Bennett graduated with a Bachelor of Arts (Fine Arts) from the Queensland College of Art, Brisbane. Bennett's work examines historical and contemporary constructions of personal and cultural identity. He was one of Australia's most prominent and critically engaged artists, whom over the course of his career addressed many issues, with particular focus on the role of language and systems of thought in the development and structuring of identity. He firmly rejected stereotypes relating to race and resisted categorisation as an Indigenous artist through his art and through his creation of his artistic alter ego, John Citizen. 
Bennett's 30 year career saw him achieve significant national and international recognition, with his work featured in biennials in Venice, Sydney, Kwangju, Shanghai, Havana, Prague, Berlin and Yinchuan. In 1999, his first major survey exhibition, curated by Elizabeth Ann McGregor opened at Brisbane City Gallery, and toured internationally to Ikon Gallery, Birmingham, United Kingdom; Arnolfini Gallery, Bristol, United Kingdom, and Henie Onstad Kunstsenter, Oslo, Norway. In 2007, the National Gallery of Victoria presented the first retrospective of Bennett's practice. Curated by Kelly Gellatly, the exhibition comprised 87 significant works from major public and private collections, toured to the Queensland Art Gallery / Gallery of Modern Art, and the Art Gallery of Western Australia, Perth. In 2012, a number of works from his Home Decor (After M. Preston) series travelled to Kassel, Germany and were exhibited as part of dOCUMENTA 13, arguably one of the world's most important exhibitions, curated by internationally renowned Carolyn Christov-Bakargiev. 30 works from his Notepad Drawings, 1995, were exhibited as part of the 8th Berlin Biennale, 2014, curated by Juan Gaitán. 
Throughout his career, Bennett was the recipient of major art awards within Australia including in 1997 the John McCaughey Memorial Art Prize and the SCEGGS Redlands/Westpac Art Award. In 1991, he was awarded the prestigious Moët & Chandon Australian Art Fellowship, giving him the opportunity to work & travel throughout Europe for one year. It was an opportunity for Bennett to consolidate his emerging practice and explore new ideas. In 2014 he was posthumously awarded Griffith University Arts, Education and Law outstanding Alumnus of the Year and Queensland College of Art Outstanding Alumnus of the Year.
Bennett's work has been collected extensively and is represented in most major public art collections in Australia, as well as a number of significant international collections. In 2016, the Tate Modern, London and Museum of Contemporary Art, Sydney jointly acquired two major works by Bennett as part of a new acquisition fund supported by Qantas. Bennett is published widely with a monograph of his work, published by Craftsman House, titled, The Art of Gordon Bennett co-authored by Prof Ian McLean and Bennett.
Gordon Bennett's art practice has been one where he continually sought to extend his language of representation. Bennett had a great deal to say, with prescient urgency. Untitled (Blue/Black Lines & Spirals) 2001 is a large work on paper. It is energetic yet yielding, and one from Bennett's early series of abstract works. On first sighting, these abstract works might appear as if Bennett is stepping away from 'speaking' about the injustices of colonialism and racism. In fact, the early 2000s was a period in Bennett's life where he attempted to pull back from the focus and pressure and attention on him to produce new paintings with postcolonial intent. Despite his commitment to bring to the fore the persistent presence of Australia's barbaric colonial history, Bennett did not want to be known as an Aboriginal artist; he did not want to be the Aboriginal spokesperson. At the time, art historian and Bennett's close friend, Ian McLean said that paradoxically the more Bennett "distanced himself from Aboriginality, the more Aboriginal his art seemed." McLean in fact sees continuity between Bennett's abstract works and his earlier metaphorical figurative works, but argues nevertheless that they call to be read differently. McLean sees Bennett turning away from the ethics of social and political concerns, towards an ethical idealism of indifference. While this is art with no clear meaning, it is art that is felt. And here McLean links Bennett's abstract works to Emily Kngwarreye's stripe paintings from the mid-1990s. Bennett's abstract works, McLean says look "more like traditional Aboriginal art than anything he has made before." This then is the complexity of Untitled (Blue/Black Lines & Spirals) 2001 and its empowering qualites.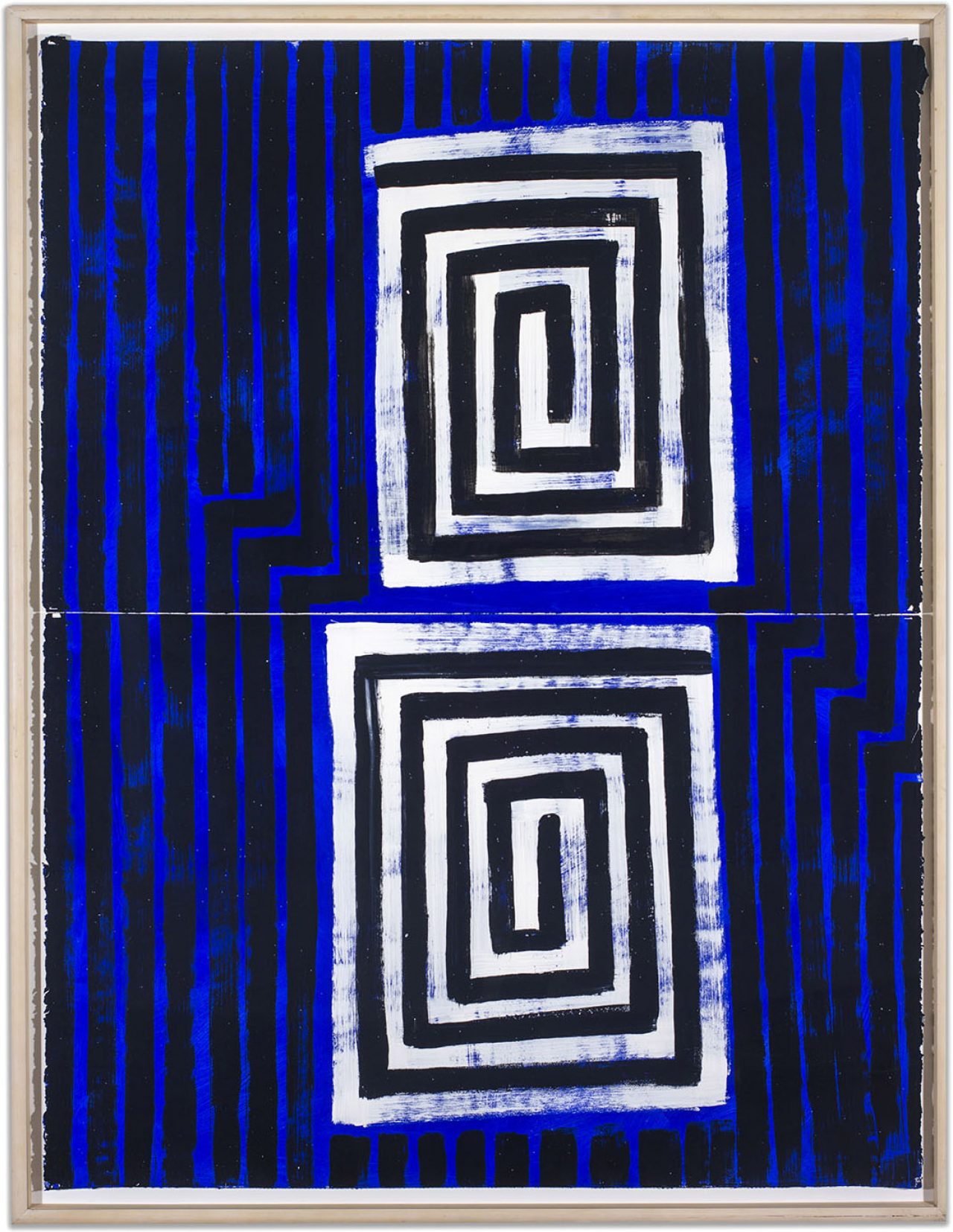 Untitled (Blue/Black Lines & Spirals)
2001
Acrylic on paper
170 x 130 cm