TRACE 2017: BIENNIAL EXHIBITION & ART AUCTION IN THE STREETS OF 4101

Eugene Carchesio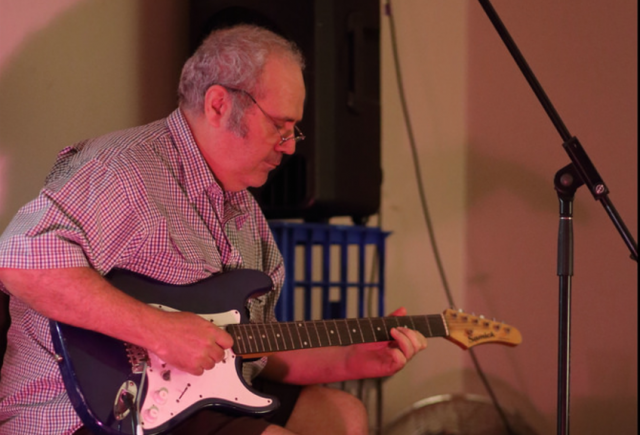 Eugene Carchesio was born in 1960 and lives and works in Brisbane. His family origins are from Ubrizzi, Central Italy. Since the early 1980s Carchesio has built a reputation for producing small-scale watercolours and very small sculptures. Playing with geometric patterns and figurative symbolism, Carchesio creates spaces emptied of the clutter of everyday life. He has had solo exhibitions in public institutions including: 2008 - 09 Someone's Universe: The Art of Eugene Carchesio Queensland Art Gallery, 2006 everything takes time takes everything Institute of Modern Art, Brisbane, 2002 Heliocentricities University of Queensland Art Museum, 2001 On Contemporary Silence Artspace, Sydney and Institute of Modern Art, Brisbane, 2001 Australian Representative 10th Indian Triennale of Art, New Delhi, 2001 Lift Project National Gallery of Australia.
Carchesio has also participated in many important exhibitions both nationally and internationally including: 2016 Sugar Spin: You, me, art and everything Queensland Art Gallery/Gallery of Modern Art, 2015 The Kaleidoscopic Turn National Gallery of Victoria, 2012 Born to Concrete University of Queensland Art Museum, 2012 Negotiating This World: Contemporary Australian Art National Gallery Victoria, 2012 TarraWarra Biennial: Sonic Spheres Healesville, Victoria, 2011 Awfully Wonderful: Science Fiction in Contemporary Art Performance Space Sydney, 2010 Roundabout Wellington Art Gallery, New Zealand, 2010 Paint(H)ing Australian Experimental Art Foundation, Adelaide, 2010 Hybrid & Folklore National Gallery of Victoria, 2009 Cubism and Australian Art Heide Museum of Art, Melbourne, 2003 Asia Pacific Triennial Queensland Art Gallery, 2002 Contemporary Drawing Hallwalls Contemporary Art Centre, New York, 2001 Phenomena Art Gallery of New South Wales, 2004 From the ephemeral to the eternal University of South Australia Art Museum,1992 9th Biennale of Sydney Art Gallery of New South Wales, 1992 Medium Density: Contemporary Australian Drawings and Photographs Australian National Gallery, and 1992 Strangers in Paradise Museum of Contemporary Art, Seoul, Korea.
Carchesio's work is held in major collections throughout Australia including Art Gallery of New South Wales, Art Gallery of Western Australia, Australian National Gallery, Auckland Art Gallery, New Zealand, Gold Coast City Gallery, Griffith University, Museum of Contemporary Art, Sydney, National Gallery of Victoria, Parliament House, Canberra, Perc Tucker Regional Gallery, Townsville, Queensland Art Gallery/Gallery of Modern Art, Queensland University of Technology, University of Queensland Art Museum, Waikato Museum, Hamilton, New Zealand.

Eugene Carchesio's artistic work intertwines drawing, painting, paper folding, and collecting small objects along with sound making activities. He is known for his sound performances, as his artwork. It is not surprising then that his work The eternal mystery pattern 2005 is a grid of white piano felt pads. It is as if they are to be seen and heard, although the use of felt pads in pianos is to absorb sound. So maybe The eternal mystery pattern is to seen, with imagined sound. But felt pads have other utilitarian uses, which would not have passed Carchesio's notice. They are equally useful as pads for furniture feet, for separating glass from other surfaces, and for preventing framed works from scratching walls. Domenico de Clario, Carchesio's artist friend and co-performer says that Carchesio functions in ways comparable to archaeology: "variously unveiling, removing, dusting, scratching, storing and labelling fragments of ideas rather than long-lost objects …" The focus in Carchesio's work can be on the smallest of marks, or subtlest of hues, or the rustle of silence. De Clario says the way Carchesio works might be summed up in Italian by the word disegno, which while mostly translated as drawing, is also "linked to the words that mean sound, sign, sleep and dream." Perhaps that might help explain why Carchesio's work moves from the micro with the macro so effortlessly.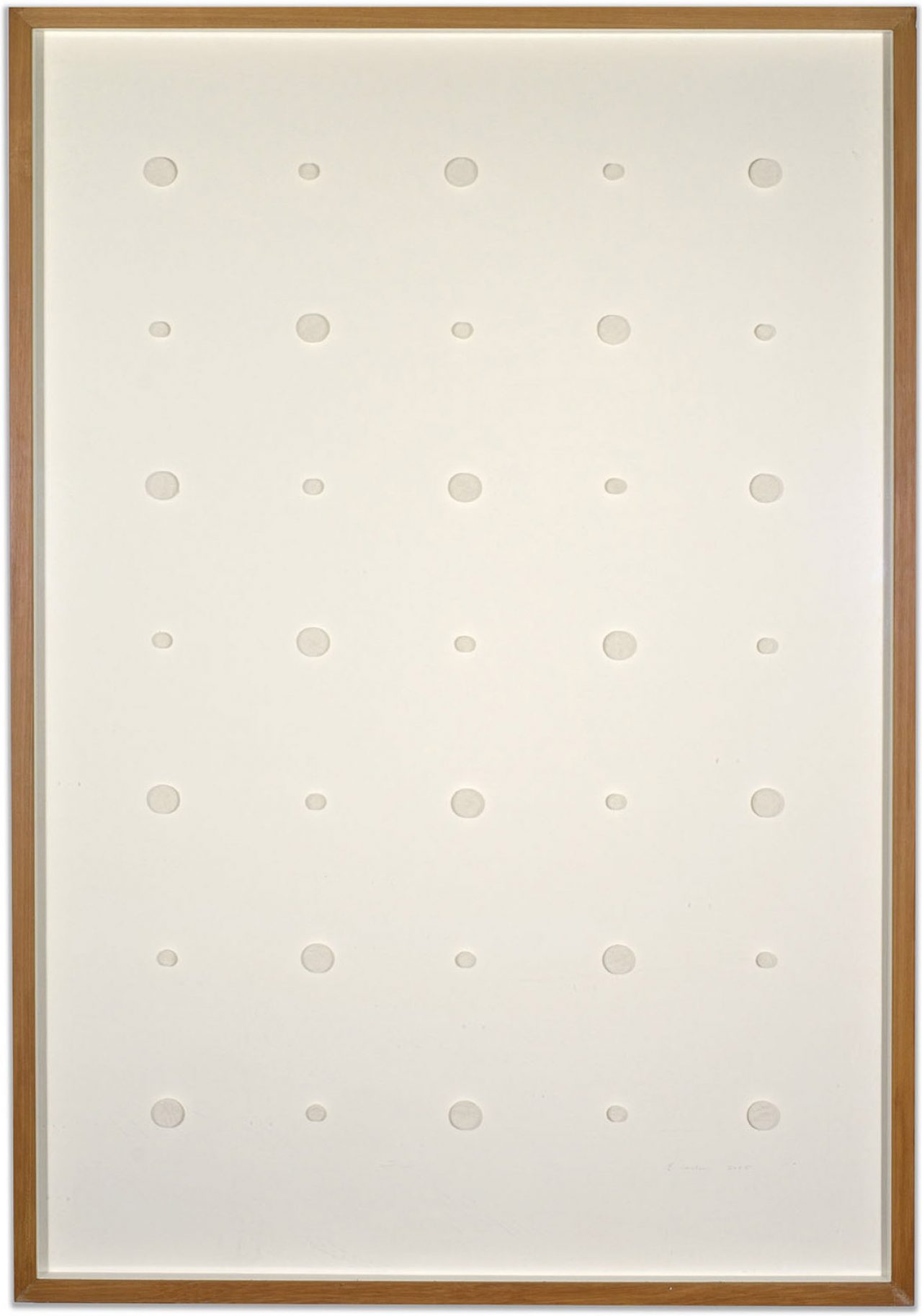 The eternal mystery pattern
2005
felt piano caps on board
100 x 70 cm