TRACE 2017: BIENNIAL EXHIBITION & ART AUCTION IN THE STREETS OF 4101

Dale Harding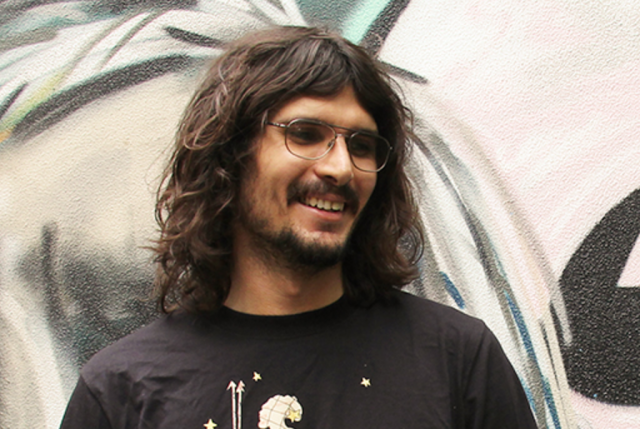 Dale Harding was born in 1982 Moranbah of the Bidjara, Ghungalu and Garingbal peoples, Central Queensland. He lives and works in Brisbane. He is described as "part of a new wave of Aboriginal artists", inspired by the achievements and success of an earlier generation of urban Indigenous artists. While still at art school undertaking postgraduate studies Harding's artistic reputation has accelerated, such that he is already exhibiting nationally and internationally. In 2017 he is exhibiting in documenta 14 Kassel and Athens. In 2016 at Gwangju Biennale Republic of Korea, For Collective Unconscious Artspace Auckland, and With Secrecy and Despatch Campbelltown Arts Centre, Sydney. In 2015 White Collared Institute of Modern Art, Brisbane, GOMA Q Queensland Art Gallery | Gallery of Modern Art, Shimmer, Jam Factory, the South Australian Museum and TARNANTHI Adelaide. In 2014
Seoul – Sydney: Contemporary Korean and Australian Print Chugye University for the Arts Seoul, South Korea, and UNSW Art and Design Campus Sydney, 2013 string theory: focus on contemporary Australian art Museum of Contemporary Art Australia, Sydney, My Country, I Still Call Australia Home: Contemporary Art from Black Australia, Queensland Art Gallery | Gallery of Modern Art. Harding's work is in the collections of Artspace Mackay, Griffith University, Queensland Art Gallery / Gallery of Modern Art, Museum of Contemporary Art Australia, University of Queensland Art Museum.

Dale Harding's work sweet dreams—bright eyed little dormitory girls, 2014, are small sewn pillows made from hessian sacks, filled with coconut fibre onto which ink serial numbers are printed. Their sculptural forms and interest in materiality draws from the history of international minimalism and conceptual art. Yet they reference something much closer to home. This is Harding's own maternal family history— his mother, grandmother and greatgrandmother who worked under the infamous Aboriginal Protection and Restriction of Sale of Opium Act of 1897. In this work Harding references their stories of growing up and living in Woorabinda Government Settlement, receiving bare rations and sleeping in dormitories with bedding and clothes made from hessian bags. His grandmother for instance was forced to wear a hessian sack as a punishment for resisting the sexual advances of a whitefella. Normally these stories Harding has said don't go beyond the family. "They are really nasty, often hurtful stories" but Harding considers it important to uncover and share them "to make sure they aren't just carried on the backs of us." In this work Harding uses the cool strategies of minimalism namely repetition, the use of common materials and common objects and a seeming disinterestedness, to draw in viewers for whom the content slowly reveals itself.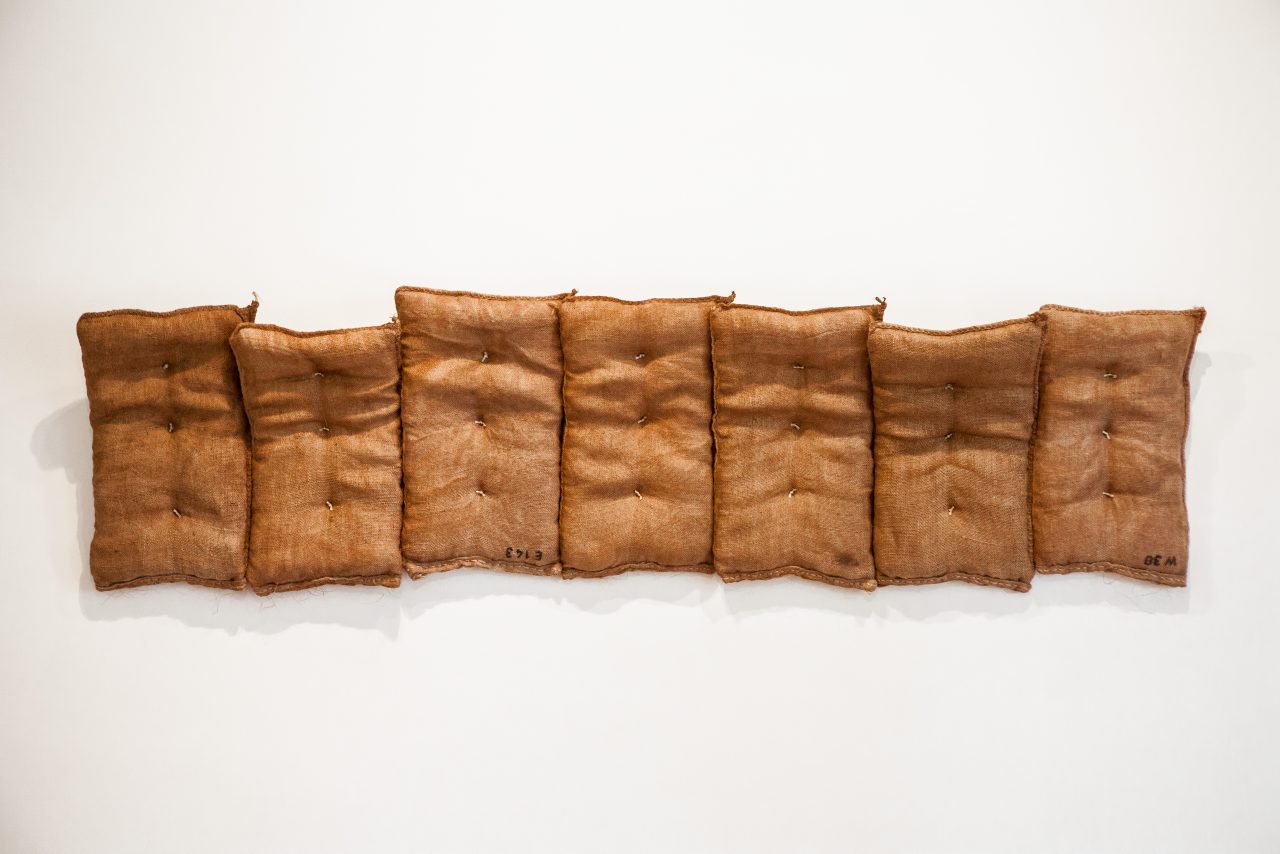 sweet dreams—bright eyed little dormitory girls
2014
Hessian sacks, coconut fibre, thread and ink.
210 x 55 cm