TRACE 2017: BIENNIAL EXHIBITION & ART AUCTION IN THE STREETS OF 4101

Richard Bell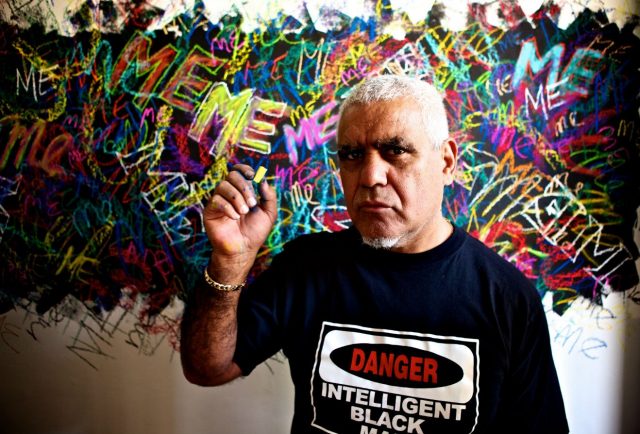 Richard Bell born in 1953 Charleville, Queensland and lives and works in Brisbane. He works across a variety of media including painting, installation, performance and video. Bell's work uses satire to explore artistic and political problems of Western, colonial and Indigenous art production. He grew out of a generation of Aboriginal activists and remains committed to the politics of Aboriginal emancipation and self-determination.
In 2003 he was the recipient of the Telstra National Aboriginal Art Award, establishing him as an important Australian artist. Recent selected solo exhibition are: 2016 Embassy, Cairns Indigenous Art Fair, Cairns & Institute of Modern Art, Richard Bell: Imagining Victory (touring exhibition), Casula Powerhouse, Sydney, Western Plains Cultural Centre, Dubbo, Bathurst Regional Art Gallery, Wollongong Art Gallery, Murray Art Museum Albury, RMIT Gallery, Melbourne, Gosford Regional Gallery & Arts Centre; 2015 Embassy, Performa 15, New York City, 2014 Embassy, Perth Institute of Contemporary Art, Perth; 2013 Imagining Victory, Artspace, Sydney,  Lessons On Etiquette And Manners, Monash University Museum of Art, Melbourne; 2011 – 13 Uz Vs. Them, touring Tufts University, Boston, University of Kentucky, Kentucky, Victoria H. Myhren Gallery, University of Denver, Denver, Indiana University Art Museum Indiana; 2009 I Am Not Sorry, Location One, New York USA, Richard Bell: Provocateur, University Of Queensland Art Museum; 2008 Window Shopping, Gertrude Street Contemporary Art Space, Melbourne; 2006 Richard Bell: Positivity, Institute Of Modern Art, Brisbane. Bell's work is in the following collections: National Gallery of Australia, Art Gallery of Western Australia, Queensland Art Gallery/Gallery of Modern Art, Brisbane, National Gallery of Victoria, Art Gallery of New South Wales, University of Queensland Art Museum, Queensland University of Technology, Gold Coast City Art Gallery, Flinders University Art Gallery Adelaide, Perc Tucker Regional Gallery, Townsville, Museum of Contemporary Art, Sydney.
Richard Bell's work in TRACE Still…2017 uses his established format of a painted background of faux-Aboriginal art plus a wave of Jackson Pollock splash-and-pour, and then finally the (white) text 'we have to share'. Who is we? This is an important question because it determines who is saying it and who is it directed towards. How could a convivial platitude be so satirical? It is so satirical because depending on who is we, the statement swings between ridiculous extremes, and so without saying a word about it, this work taps into the astonishing inequality between Aboriginal people and everyone else.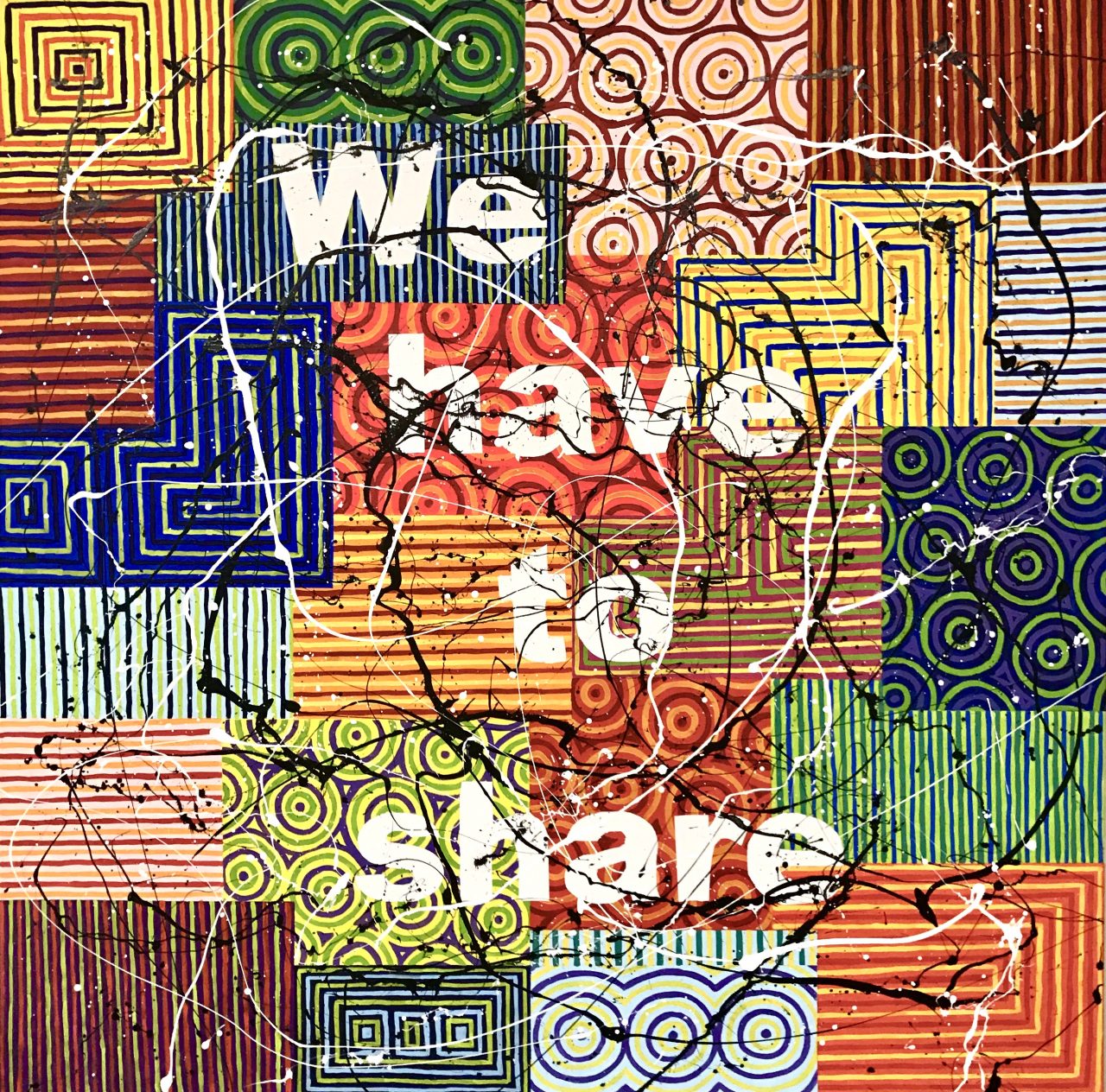 Still . . . ,
2017
Synthetic polymer on canvas
150 x 150 cm.